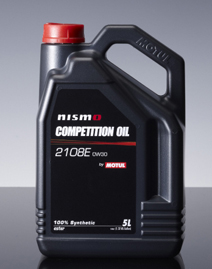 Motul Nismo Competition Engine Oil 0W30 2108E
Base oil concept
:
For the goal of improving engine output, this ester-based oil was developed by combining complex-ester and low friction coefficient mono-ester, with MOTUL's double-ester technology.
Allowable torque of approx.43kgfm (approx. 410ps)
This is a high-performance engine oil designed for racing-use, naturally-aspirated engines such as the VQ35DE, VQ35HR and others. Designed to gain maximum performance for naturally-aspirated, high-revolution engines, with a base oil and polymers to provide minimal friction loss.
Through actual fierce competition in many endurance races such as the Nurburgring 24-hour race and the Tokachi 24-hour race, where not only output performance but also reliability was thoroughly proven.
Along with improved engine output, a reduction in the use of detergent-dispersants, which are connected with friction loss in high-load conditions, the oil provides not only reduced friction loss but also improved oil film retention. Engine response is also improved.
Consideration was made of the high compression ratios involved and the need to increase oxidation stability, while also ensuring antifoaming performance in high-oil-temperature high-rotational environments and de-foaming performance in 150°C.
Basic propety information
Specifications:
- SAE viscosity: 0W30
- 100-percent synthetic Duble-Ester technology
- Equivalent:API SL
About specified oil
:
This products is the specified oil of "NISMO ENGINE TUNING MENU" in below.
- Sports resetting / for Fairlady Z (Z33)(VQ35DE/VQ35HR), March12SR(K12), Elgrand(E51)(VG35DE).
- S2(S-tune concept ENGINE) / for Fairlady Z (Z33)(VQ35DE).
Cautions regarding product:
This oil was developed with the high-intensity driving of competition in mind; please note the two points before using this oil.
- 1. The product is not covered by Nissan Motor Co., Ltd, warrantee.
- 2. When this oil is used, it must be changed after every 3,000 kilometers of use.
*This is an imported product, so apart from actual leakage from the packaging we cannot accept claims for small dents or scratches to the oil can.
Oil Change for normal driving:
While the standard for changing this oil during the high-load conditions of competitive use is once every 3,000 kilometers, tests conducted by Nissan Motor Company have confirmed that this oil surpasses the former Veruspeed Engine Oil for quality. Take this value as a suggestion for handling oil change during normal driving use as well.
Part Number, Part information:
COMPETITION OIL type 2108E (0W30) (20L) KL000-RS34P - Engine oil, 20L
COMPETITION OIL type 2108E (0W30) (5L) KL000-RS345 - Engine oil, 5L
COMPETITION OIL type 2108E (0W30) (1L) KL000-RS341 - Engine oil, 1L
*Price might change without notification
, kindly contact us thru
SMS/Whatsapp 019 - 266 8138
or
E-Mail xdauto@gmail.com
to check price, dealing method, product inquiries & technical issue. This is to ensure better tracking and a more efficient follow up. Thanks for your cooperation & understanding. Also, shipping provided with extra charges, please provide us your mailing address. TQ
>Terms and Conditions